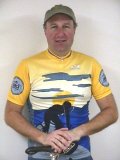 Who is WatWare
WatWare is founder, myself, Dave Watkins. I have been cycling regularly since 1993, writing software since 1983, and working as an Electrical Controls Engineer since 1986. My photography took off when I went digital in 2003. I began shooting film with a pocket instamatic in the late 70's.
The Story behind VeloLogger™
I have been logging my miles since 1993 using a Microsoft Excel® spreadsheet. The first version just logged the ride date and the distance. The spreadsheet would calculate a total distance for each week, month, and for the year. Eventually I included average speed and a field for what bike I used. I wrote a macro to track totals for each bike. I used this system for several years. I had been tracking component distances manually, but was looking for a way to add this to the spreadsheet. The spreadsheet was quickly growing in complexity, linking spreadsheets from past years to obtain lifetime totals and adding tracking for components. The solution was leaning more toward the need for database, rather than a spreadsheet. Early in 2001, over the course of a few club rides, discussion on the topic of logging personal ride data came up. Some of the riders had tried a few of the available programs for logging data, but were discouraged by the complexity of using the software, or the lack of features. With my current need to track component data along with ride information, I decided to create a complete Cycling Data Logger Application. The data would be stored in a Microsoft Access® DataBase *.mdb file, but since not every cyclist would own a copy of Access®, I decided to write a front end using Microsoft Visual C++®. That way the end user would not need to worry about owning any other application to run my data logger application. I started designing VeloLogger™ in May of 2001. The initial release took six and a half months to complete.
Cycling History
In 1993 I re-discovered cycling. My riding consisted of 10 to 20 mile rides through the Cuyahoga Valley National Recreation area. I joined a local bicycling singles club in the spring, and my riding distances increased as I found others to ride with. I set a goal of 1,000 miles for the year. I enjoyed cycling so much that I reached my goal by June! My riding distances continued to increase as I completed my first Century ride (100 mile ride) in July! That was the toughest ride that I had ever ridden. I was completely exhausted at the finish. This would be the beginning of my addiction to long distance cycling. I continued riding into the winter months and even in the snow!

In the winter of 1994, I was diagnosed with type II diabetes, so cycling became more than just riding for recreation. In February of '94, I retired my old out-dated bicycle that I used while in High School, and purchased a new Trek 2300. In June of '94, I attempted my first Double Century, a 200 mile un-organized ride with a friend. It was a hot day and we had to call it quits at 147 miles. We were disappointed with our "failure", so the next weekend we tried it again, completing the 200 miles in less than 13 hours. That year I belonged to three local bike clubs.

In 1995, I met my wife on a club ride, and in 1998 we were married. In 1997 I began riding in Ultra Marathon events, completing my first Triple Century (300 mile ride). In 1999 I became a member of the Ultra Marathon Cycling Association (UMCA) and became the webmaster for the events and standings pages on the UMCA website. In 2000 I began leading UMCA Hub Rides. A Hub ride is an informal ride where a group of cyclists get together for the day and cover distances anywhere from 100 to 200 miles. Since 1993 I have been logging between 6,000 and 8,000 miles each year, and my collection of bicycles has grown to 2 mountain bikes, a touring bike, a road bike, an ultra bike, and a tandem!
View more on my personal cycling and other cycling links.
Photography History
Sometime back in the late 1970's I received a pocket instamatic camera. I took lots of "snap shots". I didn't really have an interest in photography, the camera was a way to remember places of where I had been with a few photos. My dad was really into photography back in the 1960's, at least that's when I remember him developing black and white photos in his dark room.

Sometime in the late 1980's I began to get interested in photography, not even really sure why? My dad gave me a Pentax K-1000 as a Christmas present. It came with a 50mm macro lens. Shortly after I purchased an Albinar 80-200mm macro lens. Sometime in the early 1990's I realized I could shoot wildlife as in deer, birds, Canada goose! Back then I thought the pictures were great! Ha, now I wouldn't even consider any of them as "keepers"! Hey, you have to start somewhere!

In 2003 my wife and I took a trip to Yellowstone that would change everything! The wildlife was was non-stop; Elk, Bison, Coyote, Moose, and much more! While shooting, I ran in to many other photographers who were shooting digital and highly recommended it. The one comment from a digital photographer that stuck in my head was "I can fire off 300 shots of a bear, if only one comes out, I just delete the other 299!" They also convinced me that film was no longer all that superior to a good digital camera. By the end of the week long trip, I had shot 13 rolls of film! It cost over $100 to get everything developed. I started entertaining the thought of digital.

I spent a few weeks researching some cameras. The Nikon Coolpix 5700 seemed to be a good start. It had the equivalent of a 200mm zoom and a wide angle equivalent of 35mm so I ordered one. I wanted to be able to shoot a wider angle than 35mm, so a DSLR was the only option. This would be fine because in Yellowstone I spent alot of time switching lenses out between wildlife and landscape shots. With two cameras, I would not have to change lenses! In 2004 Canon released the Rebel DSLR a 6 megapixel body with an 18-55mm lens so I ordered one.

The next big step in my photography was the discovery of the Microstock industry. I saw these ads stating "get paid for all those photos sitting on your hard drive". I thought I was taking some great photos at that time so I submitted to several microstock agencies. IStock Photo immediately rejected everything! I was instantly discouraged and ready to give up the idea of selling my photos. Then a few days later I received an email stating that Shutterstock had accepted most of my submitted photos, then an email from Dreamstime accepting my photos, then from Fotolia, then 123RF, and Bigstock photo! Next I started receiving royalties from my photos! Shutterstock seemed to have the largest volume of downloads and pay out the most. I spent a lot of time on the Shutterstock forums where other photographers critique each others work. At first I thought that they were pretty brutal but I quickly learned that by following the advice of the big sellers that I could greatly improve the quality of my photos. I really have Shutterstock and the photographers there to thank for where I am today with my photography.